Ultrasound Probe Sterilizers PBD-S3
Domestic authoritative certification.
Innovative high-frequency and low-wavelength cold light disinfection technology.
Small size design, small space, silent cart design is easy to move.
The touch screen displays the disinfection process in the whole process and automatically detects the alarm failure.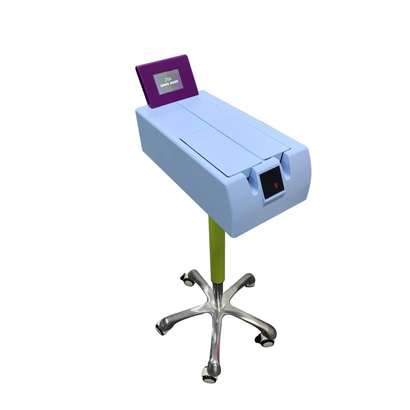 The ultrasonic probe sterilizer PBD-S3 can intelligently sterilize two probes at the same time, one of which is a cavity probe, which saves cost and time. It achieves a medium-level disinfection effect in the 30s and completes a high-level disinfection and sterilization effect in 60s. It is efficient, fast, and environmentally friendly. It solves the problem of probe disinfection, reduces the risk of probe infection, and realizes the requirement of one-person and one-time disinfection in ultrasound inspection.
Advantage & Features
Innovation: Use UV LED cold light disinfection and plus-minus oxonium ion disinfection technology. It disinfects the surface of the probe comprehensively and efficiently, even the gaps are easily disinfected.
Fast: Two probes are disinfected at the same time, which is convenient and quick. The medium level disinfection is completed in 30 seconds, and the high-level disinfection and sterilization are completed in 60 seconds.
Safety: Physical disinfection, it has no damage to the acoustic lens and probe shell.
Environmental protection: UV LED disinfection technology and low-pressure positive and negative oxygen ion technology have long life, low power consumption, and environmental protection.
Intelligent: Gently put it down. It will automatically open and close the disinfection hatch and complete the disinfection automatically.
Mute: Special isolation, completely silent working model, no noise interference.
Application Scenario
This is an innovative disinfection product that specifically for the surface of the ultrasound probe. It adopts a fully automatic working method and is suitable for rapid disinfection of linear array, convex array, and four-dimensional volume ultrasound probes used by medical institutions for the examination of the abdomen, heart, superficial surface, and small organs. It is also suitable for rapid disinfection of probes such as cavity, rectum, and surgery.