SOLUTIONS WE CAN PROVIDE IN THE MEDICAL FIELD
Animal Hospital
In recent years, animal hospitals have developed rapidly and their scale has continued to expand. There are more and more hospitals that can provide comprehensive services such as medical treatment, immunization, hospitalization, beauty, and foster care for animals. As a result, animals are infected with new pathogens after entering the hospital. Microorganisms gradually increase, and human infection with pathogenic microorganisms also gradually increases. The prevention and control of infection in animal hospitals has also received increasing attention.
Relying on our team of infection control and disease control experts, advanced disinfection systems, mature agreements and guaranteed pathogen reduction plans, to ensure that our solutions are the most advanced and the most comprehensive and effective, cutting off pathogens as much as possible at the source Dissemination can reduce the microbial load in the environment of animal medical institutions and reduce the infection rate of medical institutions.
In order to help our customers cope with the comprehensive prevention and control of infections, DONEAX's team helps organizations integrate pulsed light sterilization systems using PulseStrike 360 technology into their cleaning protocols to optimize their prevention and control plans. Below is the detailed process of how we work with you to protect the premises.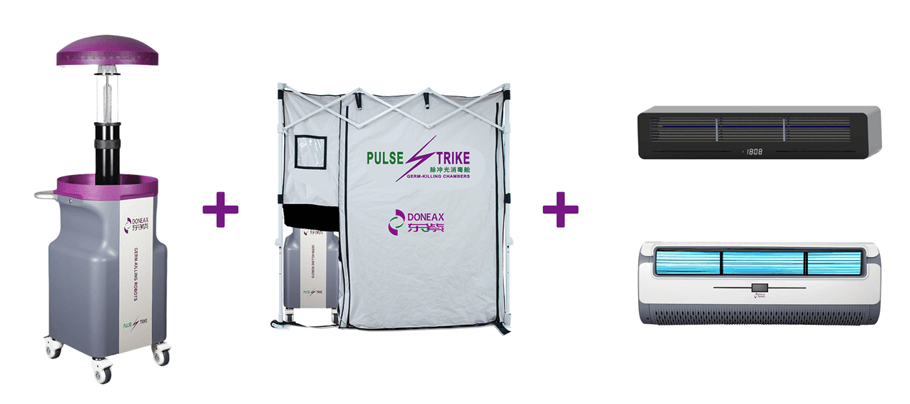 Analysis check
We will work with you to analyze the existing cleaning and disinfection processes in medical institutions, and analyze and inspect the current status of the environment at all levels, including difficulties, epidemic pathogens and related costs.
Project management
We work with your site to determine the best disease control project management plan and standard operating procedures based on your site layout, room layout, number of people, population movement frequency, and epidemic pathogens.
Implement training
The Dongzi DONEAX team will go to your place and work with your experts to make on-site implementation procedures to ensure that our procedures are efficient and low-cost. Under the advice of your experts, train your staff to efficiently operate the pulsed light sterilization system and related equipment to maximize the safety of your premises.
After-sales service
Individuals from each customer site will receive daily maintenance and repair training by Dongzi certified technicians to ensure the uninterrupted use of Dongzi's sterilization equipment. Our well-trained staff of experienced epidemiologists assist in tracking the results of your site. We help quantify the impact of Dongzi's plans on disease prevention, in order to provide you with better services. Most after-sales services are easily solved on site. If the problem requires a wider range of services, please contact us in time.
We Are Worthy Of Your Trust.
Now, Let us Help Your Business To A Higher Level!
Professional team with rich experice
Fast delivery cycle and free shipping
Quick inquiry, reply within 24 hours
High production capacity, sufficent supply